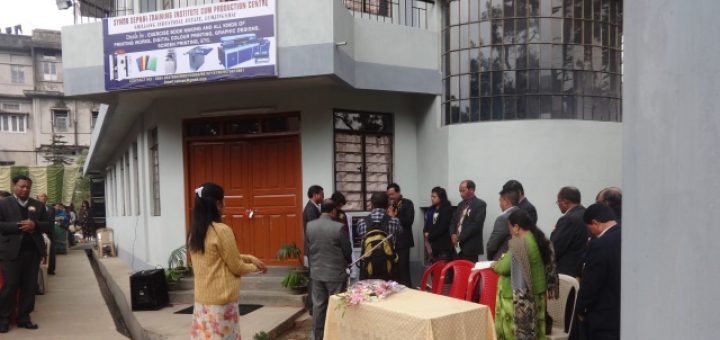 Synod Sepngi Training Institute Cum Production Centre:
SYNOD SEPNGI TRAINING INSTITUTE CUM PRODUCTION CENTRE was setup on the 6th September 2007 at Pynthorbah, Shillong.
On 25th Feb, 2015 was shifted to own building at Lumjingshai, Industrial Estate, Shillong.
There are 21 staff who works in this training Institute.
The training courses are Paper Conversion (making of exercise book, envelope, paper bag etc.), Book Binding and Certificate Course (Offset & screen printing including binding, etc.) The admission fees is Rs. 100/-, the monthly fees is Rs. 100/- and the stipend is Rs. 500/- every month.
This centre is running well, the trainees who have trained in this centre, were accommodated in the centre while some have started their own Entrepreneurship.
| | |
| --- | --- |
| Name of the Course | Duration |
| Paper Conversion- (Making of exercise book,Envelope, paper bag etc) | 3 months |
| Book binding | 3 months |
| Certificate course (Offset & screen printing including binding etc) | 6 months |
Materials:      
Sl No             Particulars                                            Quantity                          Amount (`₹)
Cutting machine                                               2                            1, 57,000.00
Hand press                                                       1                                15,000.00
Perforating machine                                         1                                12,000.00
Spiral punching machine                                  1                                14,500.00
Wire stitching machine                                     1                                52,000.00
Punching & eyeleting machine                         1                                  8,500.00
Book backing press                                          1                                11,000.00
Gold leaf printing machine                               1                                41,000.00
Hand numbering machine                                2                                  1,500.00
Mini printer for batch number                          1                                  9,000.00
Prakash 1620 offset printing machine              1                            5, 60,000.00
Paper bag making machine                               1                            9, 20,000.00
Stapling machine                                              4                                16,000.00
Computer & Accessories                                  4                            1, 23,942.00
Scanner                                                            1                                  6,968.00
Laser printer                                                     1                                  6,190.00
Master copy printer 5200                                 1                                49,900.00
Screen printing                                                 1                                  3,500.00
Master heater machine                                      1                                  8,090.00
Punching machine                                            1                                  2,900.00
Uninterrupted Power Supply (3 Kw)                1                                56,473.00
Lamination machine                                         1                                  3,790.00
       HP Printer 2500 n (A3 Size)                             1                               95,367.00
        Swift 150 Gold                                           1                                    2, 85,000.00
        Stitching Machine 9/16                                     1                               29,000.00
Canon Digital Multi color Printer C5030          1                              6, 50,000.00
Ricoh Copy Printer                                           1                               1, 55.000.00
Kyocera Taskalfa                                             1                                  70,000.00
Perfect binding machine                                   1                               6, 40,500.0
Half cutting Micro perforation cum Cover creasing machine     1
                         Total                                                                            41, 22,120.00