Mobile Health Clinic
Inaugurated on 02nd April, 2017.
There are staff, including Doctor, Paramedical Staff, Driver, Account Asstt.
 Mobile Health Clinic is a community centric project planned with an objective of providing a Basic range of health care services to the under privileged community in outreach, remote rural areas and slums through an equipped mobile medical van. The programmed focuses on providing wide range of promotive, preventive and curative health services to the beneficiaries.
Target Location                                
The urban slum, rural and remote areas, where the basic health facilities are not available or not up to standard are selected as target areas. The identification has been done through the proper need analysis of target intervention areas. The need analysis comprises of geographical details, basic health status data, existing health infrastructure and services and views of the local community. The identification should be done through the extensive compilation of the need analysis survey.
Target Beneficiaries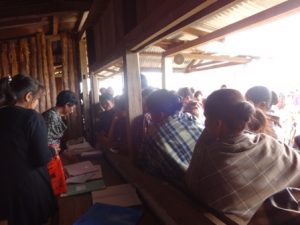 The underprivileged population living in the target areas is the beneficiaries under the programme. The programme specially focuses on women, children.
Service Offered
Under the Curative, Preventive and Promotive health care services, we offer wide range of health services as follows:
Free Medical Check Ups at designated Locations.
Free Distribution of medicines for the patients.
Referral for DOTS Therapy (TB).
Detection of diabetes and their treatment (free).
Pre natal and post natal care.
De-worming.
Mobile Health Clinic Quarterly Planner:MHC Planner
Health Service activity rendered since May,2017

Date
Village
No. of

Patients

Male
Female
Children below

 11years

MAY
09/05/2017
Nonglyput
201
33
88
80
12/05/2017
Nonglum
174
45
85
44
15/05/2017
Warkseh
69
9
27
33
17/05/2017
Rangthong
79
22
23
34
23/05/2017
Pyrnai
178
29
53
96
24/052017
Lyngkhoi
123
18
46
59
25/05/2017
Umlieh
173
21
76
76
27/05/2017
Mawlyndep
56
10
19
27
29/05/2017
Mawkamiot
98
15
31
52
31/05/2017
Tyrsad
49
11
20
18
 
 
1200
213
468
519
JUNE
06/06/2017
Umthlong
73
7
35
31
15/06/2017
Lyngkhoi
19
4
8
7
16/06/2017
Rangthong
78
23
34
21
20/06/2017
Kynroh
129
13
57
59
23/06/2017
Mawlyndep
45
6
17
22
26/06/2017
Mawlieh
400
45
204
151
29/06/2017
Umyiap
95
13
40
42
 
 
839
111
395
333
JULY
03/07/2017
Wahkaji
139
22
57
60
06/07/2017
Rangjadong
291
48
128
115
08/07/2017
Killing
83
11
40
32
10/07/2017
Pyrnai
59
10
20
29
11/07/2017
Rangblang
177
32
63
82
14/07/2017
Langpih
96
23
38
35
15/07/2017
Mawlyndep
122
27
39
56
17/07/2017
Mawkyllung
109
26
37
46
19/07/2017
Thyllaw
206
45
54
107
27/07/2017
Khliehumtrew
115
14
50
51
29/07/2017
Umrynjah
49
14
18
17
 
 
1446
272
544
630
AUGUST
04/08/2017
Photjaud
102
19
38
45
08/08/2017
Mawkamoit
17
5
8
4
14/08/2017
Mawlangkhar
124
17
56
51
18/08/2017
Shngimawlein
198
38
85
75
19/08/2017
Keniong
190
42
60
88
22/08/2017
Umrynjah
19
4
7
8
24/08/2017
Nonglyput
52
8
19
25
25/08/2017
Nongshillong
85
13
39
33
29/08/2017
Umrleng
82
15
27
40
31/08/2017
Mawlam
240
36
76
128
 
 
946
298
462
186
SEPTEMBER
2/09/2017
Umtasor
88
32
50
6
8/09/2017
Nongnah
133
30
73
30
13/09/2017
Umlieh
180
65
90
25
15/09/2017
Nonglyput
43
15
12
16
19/09/2017
Khlieh Umtrew
68
18
19
31
20/09/2017
Rangjadong
62
20
15
27
22/09/2017
Kynroh
152
48
88
16
26/09/2017
Nongjri
144
50
75
19
29/09/2017
Rangblang
76
20
40
16
 
 
946
298
462
186
OCTOBER
16/10/2017
Umrleng
62
3
22
37
25/10/2017
Umlieh
99
15
35
49
 
 
161
18
57
86
NOVEMBER
13/11/2017
Khlieh Umtrew
40
11
14
15
15/11/2017
Rangthong
52
18
30
4
23/11/2017
Umthlong
35
5
15
15
24/11/2017
Shngimawlein
160
26
62
72
27/11/2017
Umrynjah
17
6
5
6
30/11/2017
Mawlam
50
13
21
16
 
 
354
79
147
128