Name: Shimti Mawlong
Age: 22, Sex: Female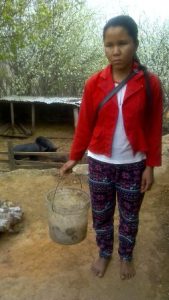 Type of Disability: Blindness
Address: Mynsain Nonglyput.
Shimti is from Mynsain Nonglyput West Khasi Hills District living with her parents. She is unmarried. She has 8th among the 9 siblings. They belong from a remote area and had a low income where her parents earn through cultivation only.
When she was only 4 she had eyes problem where she got a wrong treatment which leads to blindness. She suffered a lot during her childhood when it comes to study where there is no special educator to teach her properly in which she had to drop from schooling at 6 standards. She was also left out from her friends and relatives. She was not allow doing any household work and being looked down by neighbours and had no opportunity to show her talent.
She felt grateful, when she was identified by C.B.R.W. where she is now understand her own rights through which she is able to do many things in her live, she felt acceptable in many spear of live when it come to family, social and especially livelihood. She got an opportunity to be part of D.P.O. and got a chance to show case her talent by participating in many of the programmes organised by the A.F.S.D.I. office.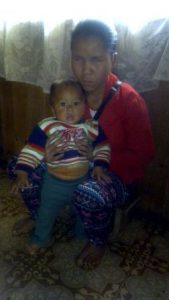 She starts to work by helping her parents in swabbing and make bunch of coriander for selling them. It was about 8 months when she took loan from the group @ Rs.10,000/- and bought 2 pigs to start up for her livelihood in piggery at the price of Rs 2500 per pig. She is very happy and she is sincerely utilising the load that she has taken. Besides she is also work as care giver of 2 years old boy and wash cloths in one of the neighbour house and earns about Rs 150 per day. She said that she is now got a trust, support and motivation and people are very happy with her work. She also add up that she should work hard to earn and support herself since there is no other way where she can earn and so she felt this is the best opportunity that she got in her live to stand in her own feet.